Customer Relationship Management (CRM)
A CRM provides structure and uniformity to the sales team, creating a self-sustaining sales ecosystem and making the job much easier for human relationship building.
WHAT IS CRM?
CRM stand for Customer Relationship Management, and refers to software that helps companies track interactions with their future and current customers.
The goal of implementing a CRM is to create a system that your sales and marketing teams can use to more efficiently and effectively interact with prospects or customers.
Marketing will often use a CRM to ensure that they're passing the right leads to their sales team - a key aspect of developing a strong relationship with the sales team. Sales people utilise the CRM in a different way. They use it to source prospective customers, communicate with them, and track their interactions over time.
Having the entire prospect history in one place increases efficiency and improves productivity. For instance, sales people using a CRM won't have to hunt through emails to remember where a conversation left off.
Why we need CRM systems?
Understanding, researching, comparing CRM's and ultimately implementing or taking an existing CRM to the next level, can be daunting.
No matter your company size, job role, team size and structure, whether you are new to CRM, have intermediate knowledge or skill or you are extremely advanced, this ebook is for everyone.
If you are a beginner simply follow along - if you're more advanced, scroll to the bottom of this page where we introduce an advanced side of CRM with links and details to more progressive CRM information.
Throughout the series, we also introduce and feature many free user guides, assets and additional awesome tools and resources that explore different stages of CRM in detail.
Why do we need a CRM in the first place?
Anyone in business, in any role or function will understand the story about a business's very first sale - how that one sale led to the next and so grew the businesses and the number of customers, one customer at a time - leading to a thriving business. As people in the business got to know each customer better, so began (and hopefully continued) a wonderful, long-term and mutually beneficial relationship. During the time spent with each customer, it became super important to retain information about each customer relationship and their personal experience with the organisation, and their products, brands or services.
In a non-digital world, managing those relationships would be highly complex and difficult without some sort of system (even if only with pen and paper). Paper gets lost, misplaced, forgotten and is certainly not connected in any meaningful way. The only connection, the old fashioned rolodex (yes, you may need to look up the definition) has with customers is their proximity, 1mm from each other, as they spin with the dial to the alphabetical letter of choice [ please take a moment to think about this and then, permission to laugh and shake the head]...
In the digital world today, this challenge has progressed significantly - I am still astonished when I learn of certain organisations that have merely evolved from pen and paper to a simple Excel file.
In a world rapidly growing with automation and artificial intelligence, Excel files (at a minimum) or other offline systems are morphing into a world of inter-connected data automation, bundled in high speed, cloud-based software platforms, capable of managing your customer interactions and engagements automatically, at scale and pace. For businesses adopting these advanced CRM systems, they never look back.
Software has helped evolve from manual pieces of paper, into Excel files and then databases with related software, connecting one to the next and now into incredible, multifunctional and automated CRM systems and platforms.
Almost all businesses should have a CRM although CRM systems may not suit every single business. I introduce where CRM systems are best suited, assessing the right time to consider a CRM system, the types of CRM software available, how to select the right CRM system for your needs and how this all aligns to help your organisation achieve your next level of business growth.
WHO NEEDS CRM?
Two groups of companies that see the most benefit from a CRM tool
B2B companies that typically need to track leads and customers across long sales cycles and through upgrade paths (e.g., a finance company, a recruiting firm, manufacturer)
Considered purchase B2C companies (e.g., a jeweler, a landscaping service, or home buyers – the list goes on)
71% of sales managers say that using a CRM helps drive and increase sales.
HubSpot Research
With a CRM tool, companies can create a unified sales process and collect data that will produce clear, actionable insights they can use to improve their sales process, forecast more accurately, and understand their most profitable clients.
This increase in importance means it is time for you to upgrade its new business sales and prospecting program.
5 Reasons You Need a CRM
1. Identify the Right Prospects
Maybe you are blogging, creating offers (ebooks, templates, etc.), or even used paid advertising to drive traffic and convert visitor into leads.
But how do you know which potential clients are the right prospects so you can better target your marketing outreach? You've been to enough "meet and greets" to know there are some clients who just don't understand the true cost or time required to design and develop a website or create a public relations strategy.
By pairing forms on your site with an intuitive CRM that shows historical data, you can sort prospects by qualifiers that help you understand the prospects most likely to buy. Your team can go into a pitch or proposal process knowing that the prospect is the right fit.
Typically you could qualify leads based on 10 questions. If the prospect answers seven of the 10 questions to the your standards, the lead is identified as Sales Qualified wich your sales team can pursue with confidence.
2. Recognize Your Best Customers
With a CRM and marketing automation platform integration, you can view the full timeline of a lead's journey to becoming a client - from the initial phone call or visit to your website to upselling on a new service to the client providing a referral.
Collecting and analyzing this data will you help you understand who will become long-term relationships and those who jump to a competitor after one engagement. The first group includes the clients or customers you want to spend time more time with, ensuring they are happy with the work and have seen results from the relationship. The second group will be one you want to monitor to understand if the costs to acquire and produce work are worth it.
3. Understand the Buying Journey
Do you know the stages in the your sales process? Can you forecast your sales for next quarter or even next month?
With a CRM, you are able to define the various stages in your client's or customer's buying process, which will help your team understand which prospects are likely to buy, who is unlikely to become a client, and the reasons why a brand chose you in the first place. You can also be proactive about responding to potential clients' concerns and hesitations.
You probably already gather this information. Now you just need to organise and use it to inform your future new business process. And it's worth it for any sales professional tasked with new business. RSW/US's survey also found that 66% of organisations felt that their new business professional was unsuccessful because of his or her lack of methodology.
4. Increase Sales Productivity
How much time does your new business team spend uploading email correspondence, recording the details of conversations, attaching files, or updating contact information?
This type of manual data entry is a waste of your team's time and resources.
With a CRM that logs emails and phone conversations, provides insights on the company or person you are working with, and connects the dots between on and offline interactions, your sales team can do what you hired them to do — land new and profitable clients.
5. Automate Client Nurturing Campaigns
A CRM can also be used to inform lead nurturing and content marketing campaigns for current and past clients and prospects.
Imagine if your new business professionals could create a campaign that sends a series of emails to prospects who expressed an interest in reconsidering their marketing plan in two months? The same idea could be applied to the CMO whose revenues dipped in their previous earnings report. You can educate and entice these potential clients, and determine their interest based on criteria such as open rate and click rate.
Our buying behaviors have changed. While referrals and networking might produce new clients, it isn't something you can depend on. It's inefficient, and it produces an unstable flow of new business to your organisation — a problem you can solve by investing in and understanding your agency's data.
Who uses a CRM system and who needs a CRM system?
CRM is a tool that organises contacts and your relationship with them. CRM does not have to be used exclusively as a sales tool. It empowers your sales team immensely - speeds up the sales cycle, derives incredibly rich insights around the sales process (and lead or contact engagement) and thereby empowers a CRM system into a personal asset - a 24/7 sales assistant.
That said, anyone across the organisation who engages with or communicates with a customer, should capture and record necessary and relevant data, relating to that customers contact record, in a centralised CRM system. Many CRM systems are therefore built intuitively and user-friendly to cater to most user roles and functions and are designed for beginner, intermediate or advanced users.
In addition to catering for individual users, CRM Software should also cater to teams, for example, marketing, customer service, leadership and management, empowering productivity, accounting and reporting.
CRM systems can capture how many calls team members make and when, how many emails are sent and even when those emails are read and by whom. CRM can log time spent on activities and engagements across the sales function for example: emails shared, documents sent and read, sales collateral used in the sales process, managing contacts through their buying experience and the sales pipeline, tracking activity and engagements, simple contact related details like phone, address, basic notes, call logs etc … the list goes on.
When it comes to customer management, engagements and contact, CRM systems can also pinpoint who is doing what, when, where, how and why, seamlessly and automatically.
When is the right time for a CRM system?
When to employ a CRM system will differ from organisation to organisation but there are some common tell-tale signs indicating when the timing is right for your organisation to consider a CRM system or upgrade the current system.
Such signs might include:
High volume of customers requiring better, seamless management and organisation (sometimes automated - depending on the system)
Allocating all information sources you have about a customer, to their record or data file
The need to record, store and track engagements with your customers at scale
The need for a central location to record, store and access customer data and activity - visible to anyone with relevant permission to access
The need to track the history you have with your customers for example: calls, emails, tasks, service tickets, the list goes on
The need to interconnect and leverage all customer related data, report on or share the connected data with any organisation member
The need to see all engagements a customer has had with your organisation either at point of sale, or online, on your website or their historical interaction(s) with the organisation
To see every interaction a customer has had with your organisation across all channels they engage with (in some CRM systems - such features may be limited)
To enable accurate sales forecasting and reporting
Managing your deals, opportunity and their pipeline with total visibility
Customer and their data insights and segmentation for marketing purposes
Identifying the right CRM, with the right tools and features, catering to your organisation's unique customer relationship management needs and challenges, is essential.
Now that you understand what a CRM system is, stay tuned for the next blog in our CRM Blog series about how to select the right CRM, the types of CRM systems to choose from, comparing CRM systems and what you can expect a CRM system to do for you, once you have one.
"Aside from other functions in an organisation, a CRM should sit at the centre, the core of the organisations universe. Why? because in business today, the customer is the life blood of the organisation and their experience and engagement with your organisation or brand(s), should dictate everything you do, live, breath and feel. In addition, and from a pure sales perspective, customers are the pulse of every organisations revenue. Without a CRM for sales staff, their role is seriously crippled. When we revisit customers following a successful CRM implementation and training, every one of them reinforce that they cannot comprehend how they ever lived without one!".


Glenn Miller, Lupo Digital (Director of Growth Strategy & Customer Experience)
CAN CRM HELP YOUR BUSINESS?
What challenges do CRM systems aim to solve:
Do you have a need for maintaining a central list of information on your leads and customers? Does this information live in many different places?
| | |
| --- | --- |
| Q1 | Are your customers regularly interfacing with multiple people on your team? How does everyone keep track of where the conversation with any one customer left off? |
| | |
| --- | --- |
| Q2 | Do you struggle to understand the productivity of your sales team? Does your sales team follow a structured process? |
If you answered yes to any one or more of the above questions, chances are your business could benefit from a CRM system.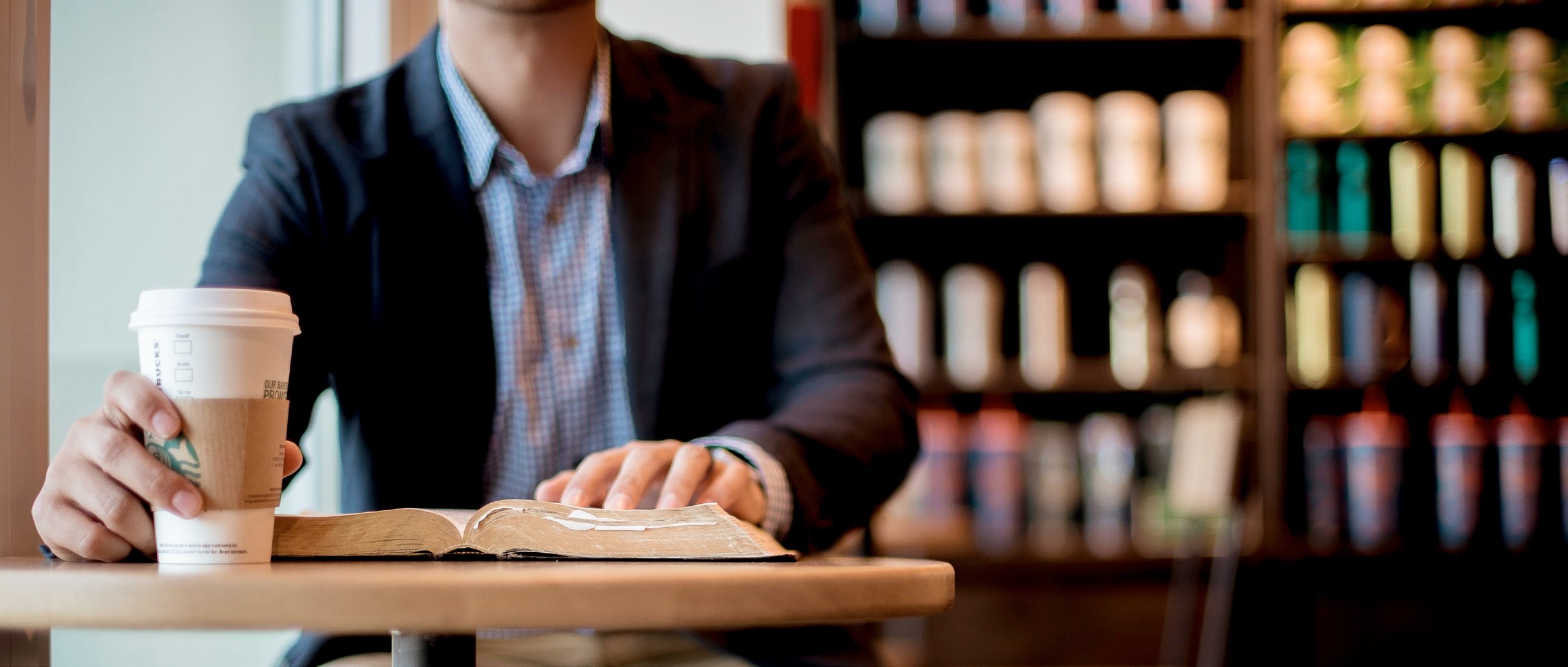 Too many new business programs are run according to an Excel spreadsheet.
Even worse, many rely on one person (sometimes the founder or CEO) with an impressive Rolodex.
It's an unorganized and unsustainable way to grow an agency and it's why a RSW/US survey found that in 80% of cases, the tenure of a new business director is less than two years. Compare that with the frequently discussed average tenure of a CMO, which is currently almost four years.
With every new biz director that leaves or is fired, the agency has to start over with no idea where prospects were in the sales process.
In 80% of cases, the tenure of a new business director is less than two years.
This endless cycle of new business leaders who have to start from scratch harms both the organisation's staff and reputation.
And this can be avoided with one tool — a customer relationship management (CRM) tool.
1. Better lead intelligence for both marketing and sales

There are many things a CRM can do that should get marketers, salespeople, or business owners pretty excited!
Here's how a CRM can make you a more effective marketing and sales machine...
Wouldn't it be helpful if you knew when a potential customer was looking at your website? Implementing a CRM will allow your sales team to know how many times potential customers have visited your site or if they have ever talked to a member of your sales team
When a salesperson works within a CRM that integrates with their company's marketing software, they're able to access this type of detailed, real-time lead intelligence all from one place.
And this isn't just beneficial to sales; it's beneficial to marketing as well. A CRM will allow your marketing team to see which leads turn into customers. More specifically, you can see what brought them to your website and what pages they looked at before becoming a customer.
When a marketer works in a marketing platform that is integrated with a CRM, they are able to figure out which of their efforts are working best.
CRM systems improve customer retention by 27%
HubSpot Research
2. Better sales and marketing (Smarketing) alignment

Sales and marketing both have numbers they need to hit each month, and when both teams have visibility into one another metrics they can easily assess each team's progress and identify and remedy problems early on in the month.
Real-time reporting holds both teams accountable to their goals and helps one another work together toward shared outcomes. (It's also worth noting that CRMs are used for customers, too, not just leads; so customer service communications and metrics can be easily documented for account managers to reference as well.)
3. Help sales prioritise it's pipeline

A CRM not only gives complete visibility into the sales pipeline, but it also helps sales people prioritise who to call first so they don't miss important opportunities. When sales and marketing set up a CRM, they can identify important criteria and even implement a lead scoring system. Organisational systems like these reduce time spent sifting through leads, and enable salespeople to prioritise the best opportunities.

4. Closed-loop reporting lets marketers improve campaigns

When you integrate marketing software with your CRM, marketing can easily analyse the effectiveness of its campaigns using closed-loop reporting. For example, when a salesperson converts a lead into a paying customer, he or she can mark it in the CRM, and it will automatically be noted in your marketing software, too.
This allows marketing to do two important things.
First, marketing can automatically remove this lead for their nurturing sequences, and instead send it customer-focused information.
Secondly, marketing is now able to attribute this new customer to a specific campaign and channel. Mapping marketing activities to sales events is critical for marketing to improve future campaigns.

DISCOVER YOUR BUSINESS NEEDS
You understand why you need to invest in a customer relationship management (CRM) tool. The new business world is competitive, so you need a way to identify the right prospects, increase your sales productivity, and retain your internal knowledge when an employee leaves the company.
These are important pursuits, but it doesn't mean you should go out and sign up for the first tool you find. You need to evaluate your options, understand what you really need in a platform, and decided how to implement the software into your current processes.
A CRM should be about saving your employees' time, making them more productive, and providing you with data to help you run the business more effectively.
5 Questions to Ask Yourself
1. What are my goals?
Before you invest in a CRM, you need to determine your goals. A CRM won't be effective if you simply use it to store data. You have to actually use the data you collect in a way that improves your business.
Consider these questions as you think about how you will use a CRM:
Do you want your staff be more efficient and organized?
Is it to prevent loss of knowledge when a staff member leaves the company?
Do you want to provide better service to clients?
Will you create more targeted marketing campaigns using the data?
Is it to better understand your lead funnel, close rates, sales cycle, and other key insights so you can target more profitable clients or customers ?
With this information, you can define your short- and long-term objectives and better analyse software options.
2. How long will it take to implement?
The answer to this question is different for every company. Custom CRM systems can take almost a year to deploy. Others, mostly SaaS platforms, you can set up in less than 10 minutes. The timeline depends on the size of the company, the number of users, if you need custom integrations, where your existing data is located, and how easy it will be to import that data.
If your sales and client service process is fairly simple, then you should be able to get up and running fairly quickly. However, your main priority should be implementing a system that meets your goals.
3. Does it integrate with my existing toolset?
A CRM should make your work easier, not more difficult, so you need to consider what tools you currently use and if you want these to communicate with your CRM.
If you rely on a marketing automation platform, integration with a CRM is key. You can improve collaboration between marketing and sales and see a more complete picture of prospects and customers with the pairing of these two tools.
If you prospect on social media platforms or use the data to inform sales conversations, you'll want to look for a tool that can include these details. If the platform can automatically input the information into the CRM, that's even better. There is nothing worse than copying and pasting URL after URL.
4. What information do I need to collect to find actionable insights?
Based on your goals, you will want to determine what reports matter most to your business. By outlining these prior to investing in a CRM, you can determine if the platform provides enough customization for your use.
Consider these questions:
Do you want to check in on monthly forecasts per sales rep?
Do you need different views for different people in the company?
Do you need reports on your current sales funnel?
Is your sales cycle unique? Do you need to customise a system's deal stages?
Do you need to be able to create custom properties?
What filters will be valuable?
By defining this information upfront, it will be easier to evaluate similar platforms and ask targeted questions.
5. Is it easy to use? How can I motivate my staff to use a CRM?
Not every company needs a complicated, feature-heavy platform to manage client relationships and their sales cycle. And simplicity will be a point in your favor when getting your team to actually use it.
Remember: A CRM only works if people use the platform, meaning they both input data and pull insights from the program. And it is only worth a monetary investment if it streamlines the new business process, resulting in more new clients, more upsells, or higher project costs.
The user experience should be intuitive. But you also need to think about data entry. If your staff starts spending 25% of their time inputing information, you've got a big problem.
If you decide to test out a CRM, you need to get buy-in. Managers should require its use, and people should not be able to revert to old ways, such as keeping deal information in a folder on their desktop or continuing to use Excel. It needs to be a company-wide change for anyone who deals directly with clients.
Ultimately, a CRM is just a tool. It's up to you to use it to improve your customer relationships.
Before all else, a CRM system should be useful to its end users: salespeople, sales managers, marketers, and business leaders. CRM systems have a range of functionalities, but these nine features are must-haves for any business that is aiming to organize their systems and improve their efficiency.
You won't find a CRM that doesn't have a contact management capability. If you do, chances are you aren't looking at a CRM. All CRM systems allow salespeople to create contact records and store prospect and customer information in a database. However, the best systems that truly improve efficiency will reduce and streamline contact data entry as much as possible.
Judge this feature with ease of use in mind.
Most CRM systems can be customized to operate on a specific sales process. Whether your company has three deal stages or 15, you should be able to program these levels into the software and attach associated values. It should also be easy to move a deal along the sales process, from one stage to the next. In HubSpot CRM, advancing a deal is as simple as dragging and dropping:
Make sure the system you are using can be customised to your needs with ease.
Sales people need visibility into a number of metrics on a daily basis. Metrics such as their progress to date against quota, how many deals they have in their pipelines at which stages, and what outstanding tasks they need to complete. Similarly, sales managers and leaders need to be able to view these categories for the aggregated sales team.
Evaluate this function based on visual appeal and simplicity.
A sales person who has to toggle back and forth between several different systems to view and complete their daily tasks is not a happy person (though this is common). CRM systems that include task management capabilities streamline salespeople's day-to-day workflow and help them keep on top of their follow up.
To cut back on wasted time searching for content, look for a CRM system with an embedded content repository. Look for a system that allows salespeople to save their go-to pieces of collateral in one place. And it's not just collateral. Writing email copy can be another time suck for a busy sales person. Look for a system that also allows the user to file away customised email templates, so the sales rep is not reinventing the wheel with every new outreach.
Salespeople spend 31% of their time hunting for or creating content
Docureted State of Sales Productivity Stud
One of the primary reasons companies decide to adopt a CRM is to keep better track of customer and prospect touches (emails, calls, etc). But, beware: Many CRM applications require salespeople to copy and paste their email outreach into the system or even upload call recordings.
These extra steps can be maddening for salespeople who are making 50 or 100 calls every single day, and it leaves room for human error. Look for a software that does this step automatically. HubSpot CRM automatically logs calls made and emails sent, and posts them in a timeline-like view on a contact's record page: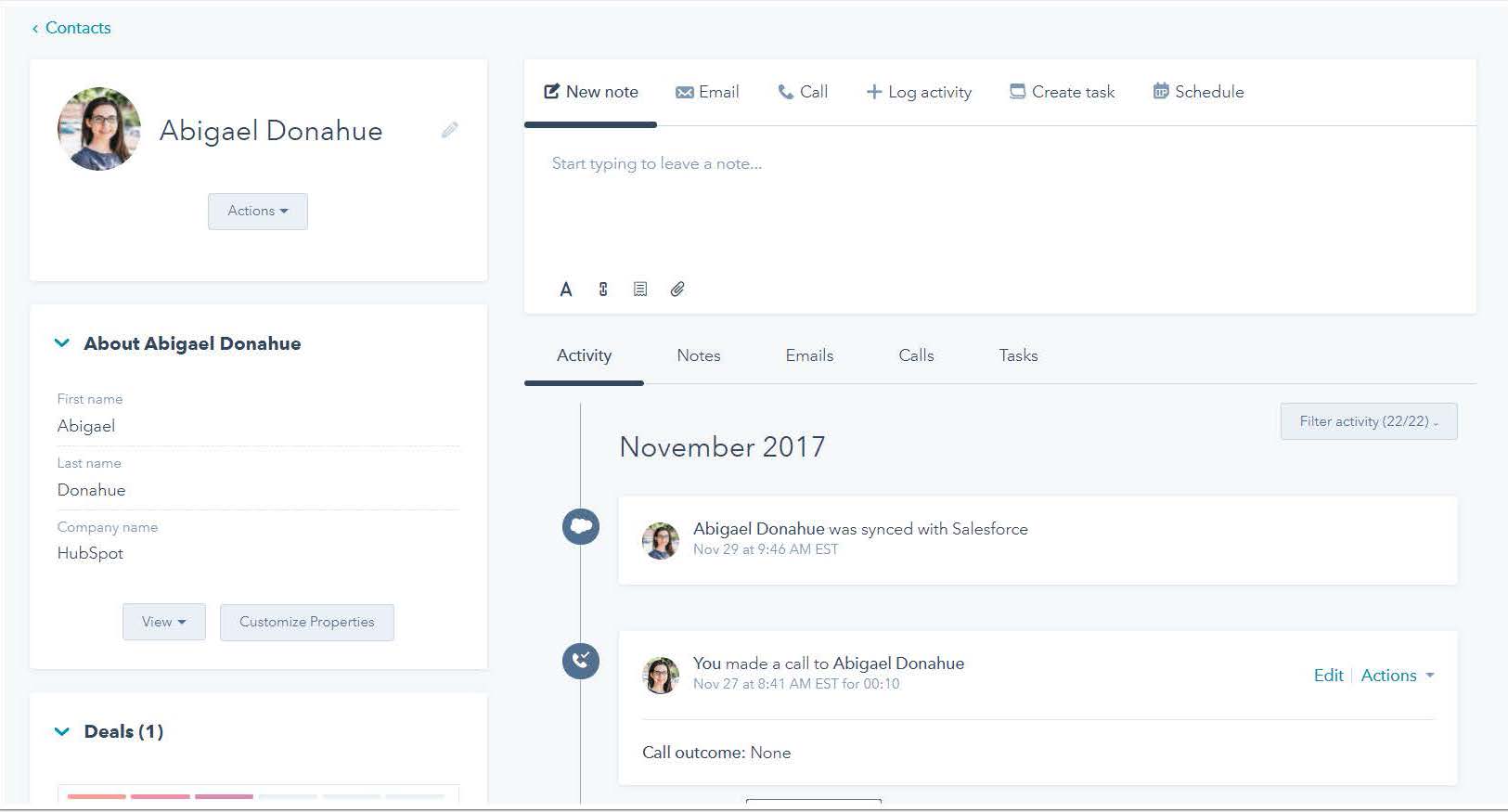 A CRM system is only as good as the insights it provides. Be sure that your CRM provides reporting features that make it easy to export and distribute the trends that the system reveals.
Sales reps have seen productivity increased by 15% when they had mobile access to CRM applications. Tying reps to a CRM system that can only be accessed via laptop is bound to annoy them, especially if they're in a role that requires travel. The majority of CRM systems today allow salespeople to log on to the application from mobile devices such as tablets and smartphones -- make sure the ones you're considering do as well.
INTEGRATION WITH MARKETING AUTOMATION
And last but not least, integration between your marketing and sales platform is crucial. A fter all, the underlying concept of "customer relationship management" is to provide a complete lifecycle view into each prospect and client. A gap between marketing automation and CRM can lead to lost information and lost opportunities.
A good CRM isn't just about the features. You need to find a system that works for the way you do business, and it needs to be something you will use to make data-backed decisions on how to adjust your sales process, including qualifying leads, prospecting, lead nurturing, and closing.
CRM should help you to
Improve conversion rates
Increase revenue
Reduce marketing spend waste
Increase sales productivity
Increase client account size
It should help you better understand your lead funnel and conversion rates so that you know how many leads you need in your funnel to meet your quarterly goals.
That said, it can be confusing to know which CRM is right for your needs, especially as many offer different features, different levels of complexity, and have different cost structures. What do you really need, and what is a "nice to have"?
7 Features to Consider When Evaluating CRM Solutions
1. Contact Management
This is what CRMs are built around — the storing of contact data. One of the largest barriers to adoption of a CRM is data entry of contact information, so look for a system that makes it easy to enter data — or does some automatic data capture — and keep contact records up to date.
2. Deal Stages
Deal stages should align with your specific sales process, such as Appointment Scheduled, Qualified to Buy, Proposal Requested, Proposal Presentation, Pitch, Closed Won, and Closed Lost.
A CRM should allow you to customize the deal stages — to align with your unique sales process — and assign a value system to each stage.
3. Task Management
A CRM should make it easy to organize and associate tasks with each deal or contact so sales reps stay focused and productive.
4. Content Repository
90% of the materials created by marketing are not being used by sales, and sales reps are spending 30 hours each month creating their own or searching for materials. It is a waste of time that could be avoided if sales enablement content and marketing materials were easily accessible and organized for the sales process. Look for a CRM with a content repository that provides analytics so you can track the influence of a piece of content in the sales process.
5. Dashboard
Part of what makes using a CRM beneficial for your organisation is being able to clearly see how well you are doing in progressing toward your goal each month. The dashboard should highlight how many potential deals you have in your pipeline, what tasks need to be completed, and how the overall team is doing if your agency employs more than more person responsible for new business.
6. Mobile
Depending on how your firm is set up, it might be useful to have a mobileaccessible CRM for people to access on the go. Cloudswave found that mobile CRM apps can boost sales team productivity by 15%.
7. Marketing Automation Integration
If you use a marketing automation system to also run your marketing, make sure you choose a CRM with an integration. This will help you tie marketing activities to sales results to see the true ROI of your new business efforts.
Practical problems, main challenges and misconceptions about CRM systems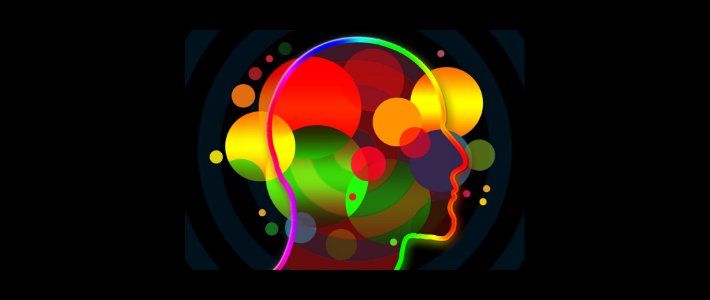 Before we delve deeper into topics of this blog, it's important to point out an obvious and clear distinction between the two fundamental elements of CRM we've been exploring up until now:
CRM (Customer Relationship Management) and a
CRM system
CRM, Customer Relationship Management
CRM, Customer Relationship Management is your management of the relationship you have, with your customers and how you build, nurture and continuously grow the relationship, over time.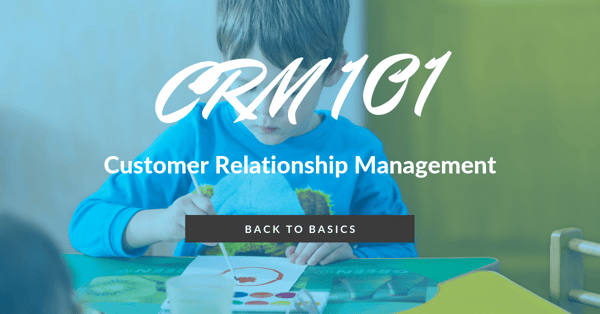 How you speak to your customer? When you speak to your customer? Information about them, likes, dislikes, their birthday perhaps. What you speak to your customer about from one call or email to the next and potentially the need to record and track all of these engagements and facts and being able to inter-connect that information. You may need to store and record other types of super-important information for example; conversational information like what your customer is expecting from you and your organisation and why? and what you (sometimes as a collective in the company) are doing to solve your customers pain points?... these things all take place as a matter of course, with or without a CRM system (working hard behind the scenes) to help you manage and organise them.
A CRM System
If you think about how you are currently handling, storing, recording and accessing information about your customer relationships and their engagements with your organisation, relative to the above information, you are either capturing customer information manually or via some other kind of 'system' for example, taking notes on paper or in digital notes on your smartphone, or in a different CRM system (that may or may not be adequate for you), like committing everything to memory or a Microsoft Excel file. Nevertheless, these all rely on you to remember, record, store, access and draw upon every interaction, engagements and experience with your customers and the ever-so-important; relationship.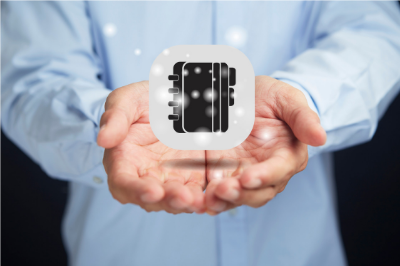 In manual systems, data is isolated - it sits by itself. It sits alone. It has no ability to correlate, inter-relate, derive or present insights or trends, or lead to any pro-active ability to help you better inform into your decision making process or help customers and foster a relationship better or smarter/faster.
So, the first part to adopting a need to systemise your customer relationship and management of it, is to identify, acknowledge, understand and become aware of what data surrounding the relationship needs management and how it will help you in your role (and in turn help your organisation), to do so.
In other words, as a human with limited time in a day, managing all the information (essential details about your customer which you may need to come back to later on and review/revisit) about a customer and being able to use that information to better help you, your organisation and your customers, in real time, causes pressure for you.
This is one of the primary challenges, leading to an organic need to better manage your relationships leveraging technology to do the thinking for you, to become super organised, connected and working for you, so that you can do more, quicker, better, faster and smarter. Luckily we live in the digital age where such technology is cheap and super-easy to access.
A misconception is that you will turn on a CRM tool and wallah! it knows what you need and has all the information you have, inside it too, no, no no.
Once you have an idea of the manual systems that require automation or connectedness or storage, even If you merely sketch this down on a piece of paper ( in bullet-point-form), these points will become the basis of, and inform into, your pure CRM system needs, when thinking of digitising your CRM requirements.
In addition you will need to put all your good customer data points into the system and probably program the system how to display the information for you, where to do so and some programming on how you wish to access and arrange the data. This is referring to personal customisation of CRM data requirements.
A CRM system really helps you improve how you organise, control and manage those relationships more productively, efficiently, faster and at scale and to help you improve the way you manage your relationship with your customers. So, a CRM system is just a tool to facilitate an improved experience for your customers and grow a stronger and a more enriched relationship with your customers - all attributes that will lead to positive growth of your customer database which in turn will lead to more sales (hopefully in less time relative to those days, without a CRM system, by your side.
And, a nice byproduct, once data is computerised and stored in a CRM system, is that you can access all of that interconnected data to identify trends, spot issues, find patterns and actually become proactive versus reactive when it comes to managing customers. You become less overwhelmed with brain clutter and more overwhelmed with happy customers. You get off the back foot and on the front foot.
Misconceptions of CRM systems
CRM systems however are not always as easy as the seem. What is the down side to CRM that can leave some users feeling grumpy about their CRM system or feeling they don't want to use it?
Changing old habits, is super difficult
Some CRM systems can be clumsy, hard to use, slow, counter productive
Data importing may not always be so easy nor intuitive or seamless
Integrations with other platforms may nor or do not always exist, leading to logins to multiple platforms all running in the background
Special requirements aren't catered for or customisable
Management decisions
management is unwilling to identify the need for CRM or a CRM system
unwilling to understand the timeline and onboarding requirements for the organisation and users
expecting too much too soon; lack of adequate understanding or budget for the CRM requirements
CRM management champion; bad vendor experiences; security concerns; integrations concerns; Infrastructure concerns; technology and constant updating requirements
What a CRM is not and how to bridge any gaps (missing features)?
CRM and CRM systems are not an ERP system, nor an invoice tool, nor a product inventory nor respiratory system. Although some CRM systems may include such features, they are not common. If you do have these needs, you my need a CRM system that is completely customisable to the nth degree for a hefty fee or rather one that is capable of integrating with your current technology and that may be a more cost effective and better place to start (exploring your existing systems connect-ability to other 3rd parties or their own add-ons to your current system if possible). Lastly, a dedicated and stand alone CRM system that can be customised (I'd say usually 80%) to your satisfaction, easily, is usually the most cost effective solution for you.
Whilst this is not a 'sales-y', sales article, it should be stated (for those sales brains reading or listening to this) that CRM is not 'Sales Enablement' but it is a massive first-step, on its way to enabling far greater sales results and growth, than any manual system could ever dream of producing or achieving for you. Great CRM platforms will also play a role in Sales and Marketing alignment at the core, but merely facilitate the process.
CRM Platforms to Consider, the Practical Side and Real-Life Application of CRM and CRM systems
sd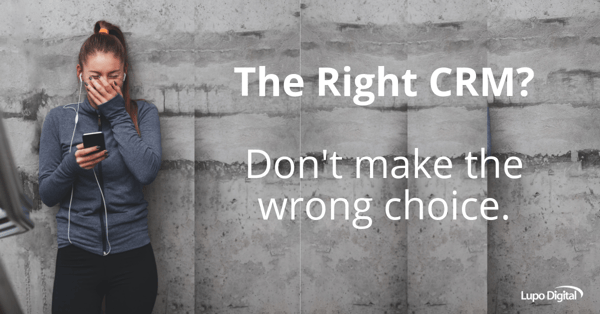 Don't get caught out making the wrong decision on CRM system. In this we:
compare various CRM industry-leading platforms to consider
look at the practical side and real-life application of running a CRM system.
Let's dive right in.
Which current CRM platforms to consider?
We have covered everything you need to think about when you consider what a CRM needs to do for you. I recommend documenting a list of these things, the main motivations and requirements of your CRM because these form the basis of your research into the right CRM system to meet your needs.
With list in hand, the next step is to research and start creating a short list of CRM systems capable of achieving your CRM system goals. The goal of this article is to provide you with some inspiration around a range of industry leading CRM systems available today and to get you started in the right direction.
It can be difficult to suggest a selection of products for comparison without appearing to be biased. Therefore, here's a range of impartial comparisons we've sourced with no slant or skew, these result from Google search for: "comparing CRM systems 2019" (as at June 2019):
At Lupo Digital we use HubSpot - I don't hide behind advocating HubSpot's CRM. Here are some reasons why I recommend adding HubSpot's CRM to your list of comparisons?
It's free ( we do cover some of the 'catches' below) https://www.hubspot.com/products/crm
HubSpot CRM takes care of all the little and large details automatically - logging emails, recording calls, and managing your data - freeing up valuable selling time in the process. It regularly ranks on comparative Websites as one of the best CRM software products for small and medium size businesses.
See everything about a contact in one place.
Live chat with prospects and customers in real time
Find and focus on closing the warmest leads, first
Use proven 1:1 email templates they provide or you can create your own
There are no limitations on the functionality side of the free CRM tool but some actions are limited in volume or connectability with respect to other parts of the Hubspot ecosystem that connect to the free CRM for example: HubSpot's paid versions of their Sales, Marketing and Customer Service platform. You can visit this Hubspot free CRM page to immediately see the finer restriction details.
CRM Platforms to Consider, the Practical Side and Real-Life Application of CRM and CRM systems
Most articles stop at the theory and information tips on CRM like: which platforms can help you and why to choose them. But, we're going to go one step further and explore the practical side of CRM, post implementation. This should help enable you to see CRM from the 'other side'.
If you'd like to see the HubSpot CRM for yourself, right now, whether as a beginner, intermediate or advanced CRM user, simply book in a time to chat with one of our CRM specialists to 1. learn where you are at on your CRM journey and 2. use insights to give you a customised demonstration aligned to your unique circumstance, of how to get you to your next level.
Alternatively, you can also go-it-alone and get started on the Hubspot's free CRM, here.
For extra value and if you'd like to equip yourself with CRM skills or skill up on more advanced features, you can get under way right now, here.
USING DATA TO DRIVE GROWTH
Hopefully, this guide has given you a clear overview of why you need to invest in a CRM, what questions you need to clarify internally before you begin looking at solutions, and some key features to consider when shopping for the perfect CRM.
The goal is to find a solution that works best for your company so you have more insight into how your new business program actually works. The first step is gathering the data, which is the job of a CRM. The next step is using that information to better target prospects, land new accounts, and retain clients for longer -- all which lead to growth.
We're CRM and Sales Enablement specialists.
To reap the full benefits of a CRM, you have to: choose one with the features that are right for you business today and that can grow with you as your business evolves.
Think about your company's growth goals, and consider both your short-term and long- term needs when investing in a CRM platform. Keep in mind, a CRM is not only a financial investment, it is also time investment for your sales and marketing organisation.
Picking the right system, implementing it, and enforcing best practices around it's usage will pay dividends as your company continues to grow and scale.
A specialist digital sales and marketing growth agency providing data driven results, leveraging technology and automation, to effect growth and digital transformation