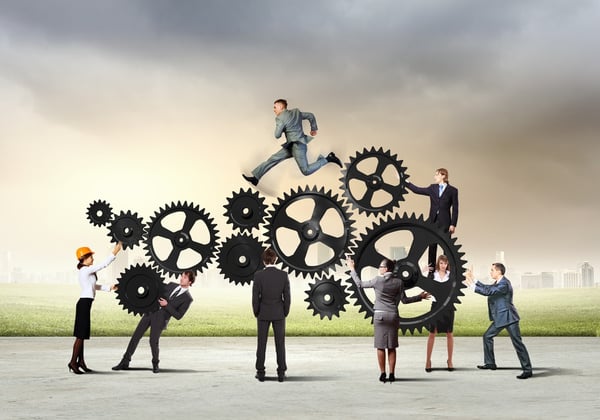 Your organisation has embraced inbound marketing - you now need an all-in-one platform with tools for marketing, customer acquisition and customer service designed to work together to make you excel.
HubSpot Marketing and What is Inbound Marketing?
Custom built to handle your marketing needs, the HubSpot Marketing Hub helps you increase website traffic, convert more visitors into customers and exceed your inbound marketing goals. HubSpot Marketing helps you:
Build and modify your website
Drag and drop instead of relying on IT to create a polished, responsive site ready for all devices. Update and edit just as easily.
Create custom built and laser focused calls-to-action and personalised messages that can be A/B tested to help increase conversions.
Convert visitors to leads
A library of landing page templates let you launch one within minutes, complete with embedded forms for capturing lead information.
Turn leads into customers
Design nurturing email campaigns and other automated interactions that provides leads with a personalised path.
Analyse and report on traffic
Connect to your database to track interactions your customers have with your brand, then report on the effectiveness of each initiative or campaign.
Schedule posts, track engagements and monitor the social sphere for relevant conversations and mentions of your organisation.
Enjoy instant search engine optimisation suggestions as you're creating your blog posts, then use integrated analytics to measure your SEO ROI.
Customise email templates while automatically personalising subject lines and content to align with each recipient. Run A/B tests to increase clickthroughs and open rates.
HubSpot Sales
Once you're done establishing your inbound marketing plan using the marketing tools, your next stop is HubSpot Sales Hub. Here's where you can save time by automating tasks and speeding up the time it takes to convert a visitors into leads, and leads into customers. HubSpot Sales helps you:
Automate emails and reminders
Transform your outreach by creating a sequence of follow-up messages you can personalise and deliver on a predetermined schedule.
Immediate notifications let you know when prospects open your email or access a link or attachments so you can follow up as quickly as desired.
Provide prospects with a link to a meeting schedule where they can pick the time and date that works best for them.
Enjoy automatic logging of each lead's contact information and interactions with your organisation.
Track prospective customer data
Keep an eye on who is visiting your site in real time, which lets you see which prospects are most engaged and merit a follow up.
Sync your info with HubSpot CRM to review successful interactions, efforts that fell through, and which team members are generating the highest response rates.
HubSpot Service Hub
As your organisation grows with your marketing and sales efforts, your next move is to ensure your website visitors, prospects and existing customers have the ultimate experience when interacting with your brand. HubSpot Service Hub helps you:
Respond more quickly and effectively
Communicate with visitors through a live chat tool and conversational bots with HubSpot Conversations, a universal inbox that pulls in all visitor chats, emails and other interactions you can then access and review at a glance.
Improve your team's productivity
Automation and routing lets you kick off a series of emails, notifications or tasks that can be automatically delivered to the appropriate team member.
Help customers help themselves
Use the HubSpot knowledge base to establish a library of useful articles and FAQs for prospects and customers to get quick answers.
Turn customers into promoters
Survey tools let you collect feedback you can use to improve, while built-in reporting tools let you review the effectiveness of your customer service efforts.
These are just some of the important aspects to remember when trying to engage with prospects on an online platform. Lupo Digital is a sales and marketing growth team that specialises in digital sales, service and inbound marketing, helping organisations with their client engagement and building strong ongoing relationships with their prospects and clients.
For more information about how inbound marketing works for your organisation, download our executive guide to inbound marketing.